Jurassic World: Dominion Dominates Fandom Wikis - The Loop
Play Sound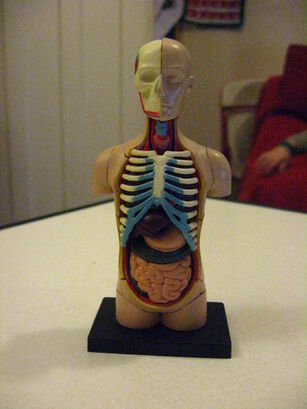 Human Biology is only available as Edexcel IGCSE.
Edexcel IGCSE Human Biology
Edexcel International GCSE Human Biology page and specification
Exams from: June 2019
Available in June and January (until 2023), November (from 2023)
Specification code: 4HB1
Subject Content 
Cells and tissues
Biological molecules
Movement of substances in and out of cells
Bones, muscles and joints
Coordination
Nutrition and energy
Respiration
Gas exchange
Internal transport
Homeostatic mechanisms
Reproduction and heredity
Disease
Assessment
100% exam based.
Paper 1 - 1 hr 45 min - 50%
Paper 2 - 1 hr 45 min - 50%
Resources
Textbook
There is only one text book available Pearson Human Biology (9-1)
Answers can be found here
Free resources
Scheme of Work from Edexcel
Past papers from Edexcel
Human Biology notes http://astarbiology.com/igcse/edexcel-human-biology/notes/
Elevise on YouTube, videos specific to the Edexcel Human Biology IGCSE https://m.youtube.com/channel/UCDBlpYjI-fRNmpzNi4wZMFQ/videos
Biology videos on Youtube some suitable for Human Biology https://m.youtube.com/user/MrExham
Printable resources from Teach It Science (subscriber but some free content) https://www.teachitscience.co.uk/index.php?CurrMenu=2182
Class clips from BBC Teach https://www.bbc.co.uk/teach/class-clips-video/biology-ks3-ks4-inside-the-human-body/zhmskmn
Resources for science teachers https://thescienceteacher.co.uk/biology-teaching-resources/
Resources from the Association of the British Pharmaceutical Industry. Lots of excellent looking content, focused on the treatment of disease https://www.abpischools.org.uk/age-range/14-16
Links to resources on Human Biology http://www.schoolscience.co.uk/ages-14-to-16/resources/biology/human-biology
 Lockdown Anatomy videos from Dr Alice Roberts https://www.youtube.com/playlist?list=PL4UJ51L9AD1XAbkpGkcydgyVgU9pS__DQ
Ellen McHenry's Basement Workshop https://ellenjmchenry.com/homeschool-freedownloads/human-body/
Seneca - no specific Human Biology section so need to pick out relevant topics from Biology https://app.senecalearning.com/dashboard/courses/add?Price=Free&Subject=Biology
Quizlet - Search for specific sets or here is a collection
Anatomy Arcade - games based on Human Biology - http://www.anatomyarcade.com/index.html
*Note the links below were put together for an old spec. They have been checked as still working Sept 20 but content not checked as suitable for current spec*
List of resources from a member of the HE Exams Yahoogroup. Resources recommended by HE Exams Yahoogroup member Karen G:
Here is a list of links etc that we used for Human Biology...we didn't get to use all of them in the end, but there were some excellent resources on there...Been helped out on the HE Exams Yahoogroup a few times and appreciate it very much, so hope these will save someone some time and energy! bw's Karen
Cell Parts Worksheet - Cell Membrane Lesson - My Schoolhouse - Online Learning http://www.myschoolhouse.com/courses/O/1/70.asp
I used the freebies off the following site, and dd used the edexcel book to check her answers...but i have had membership to this site before and it is well worth the money: Enchanted Learning Anatomy Activities
http://www.biology-resources.com/biology-questions.html
http://www.biology4kids.com/files/cell_main.html
http://www.youtube.com/results?search_query=edexcel+igcse+human+biology
Great free revision http://www.s-cool.co.uk/gcse/biology
Ear labelling http://www.purposegames.com/game/705
ears and lots of body stuff here http://kidshealth.org/kid/htbw/
nerve cells http://highered.mcgraw-hill.com/sites/0072943696/student_view0/chapter8/labeling_exercises.html#
simple version http://psych.hanover.edu/Krantz/neural/struct3.html
Quizzes...http://www.biologycorner.com/quizzes/
Read and do quiz http://www.bbc.co.uk/schools/gcsebitesize/pe/appliedanatomy/2_anatomy_skeleton_rev1.shtml
Sewage and treatment etc http://www.bbc.co.uk/bitesize/standard/biology/biotechnology/problems_and_profit_with_waste/revision/3/
Extra stuff and videos etc http://www.bbc.co.uk/bitesize/standard/biology/
gas exchange in alveolas and capillaries http://www.youtube.com/watch?v=XTMYSGXhJ4E
very simple drawing explanation of gas exchange..simple but effective explanation http://www.youtube.com/watch?v=-mmSSU4iwAM
The Respiratory System http://www.youtube.com/watch?v=hc1YtXc_84A
Genes and inheritance https://www.bbc.co.uk/bitesize/topics/zyh9fcw
Homostasis in humans http://www.bbc.co.uk/schools/gcsebitesize/science/aqa/nervesandhormones/controlinthehumanbodyrev1.shtml
Khan academy has lots of different videos https://www.khanacademy.org/science/health-and-medicine/respiratory-system/gas_exchange/v/alveolar-gas-equation---part-1
pregnancy menstruation etc few mins long http://www.youtube.com/watch?v=GGFli0LVuI4#t=53
osmosis and diffusion few mins long http://www.youtube.com/watch?v=7i7e5FGVnNI
Transport in Humans - about half hour http://www.youtube.com/watch?v=U4FE07DyEOM
Blog (old spec) http://edexceligcsehumanbiology.blogspot.com
Distance Learning
Many home-educated students study Human Biology IGCSE successfully using just the textbook and free online resources, but some find a distance learning course suits their family better, or want to use a tutor occasionally for marking essays or past papers. Course providers can be found on the Distance Learning Providers.