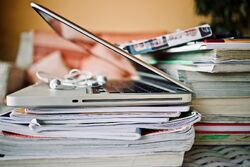 There are a lot of excellent paid resources and courses available to support home education. Once you know which exam specifications your child is studying it is best to source textbooks, resources or courses that are tailored to the specific exam specification, to ensure proper content coverage and exam preparation, the subjects and the distance learning providers pages will help you.
However, it is important to take time and do your research over the decisions about specifications and paid for resources. You need to be certain that you are studying specifications that you can arrange the exams in and using resources/courses that suit your child and your family. It is really worth while taking it slow at the start and doing this research, it can prevent costly and time consuming mistakes.
The following resources have been put together to support those starting out who need resources to use while they research. They are also useful as supplements to textbooks/courses. They are based on suggestions from members of the Home Education UK Exams and Alternatives Facebook Group. Almost all resources cover a range of subjects. Subject specific resources can be found on the subject pages. They have been divided into free and paid. Many sites are a mix of both, so they have been placed where it was felt most appropriate. When starting out do explore the free content first.
Free Resources
Oak National Academy - online teaching resource set up to support schools during Covid
Khan Academy free online courses and lessons. Not linked to UK curricula
Teach It They have sites for English, Maths, Sciences, Languages, Geography and History. They are a subscriber site but there is a lot of free content and many just use that.
BBC Bitesize - mainly revision resource but useful for getting basic idea of subjects - includes info, videos and quizzes
Seneca - While Seneca has a premium (paid) option most find the free resource does all they need. Set up as a way for schools to set homework it provides information and quizzes linked to specific exam specs. Probably not enough alone to cover a complete course but very useful.
BBC Teach Secondary Resources -video clips to support lessons, useful for discussion illustrating points
Youtube - there are so many good channels it would be impossible to list. Some channels are listed directly where members have found them particularly useful
Quizlet a site where you can make your own flashcards or search for those already created - games are generated based on them too. Quizlet GCSE Centre has content generated by their approved contributors. There is a paid version but not clear what that provide that the free access doesn't.
Cognito free video lessons and quizzes for Maths and sciences
Physics & Maths Tutor - despite the name covers a range of subjects with revision notes/videos/quizzes
FreeScienceLessons Youtube channel with science videos
Crash Course Youtube channel covers lots of subjects as 'courses'.
For languages Memrise and Duolingo
Tutor2U lots of paid resources in downloads/books/courses but lots free in nots and videos - covers mainly humanities/social sciences/business
Z notes - Revision notes - videos - careers podcasts
OpenLearn - free courses from the Open University
FutureLearn - free courses
Paid Resources
Save My Exams - Free revisions notes and topic questions, some of the mark schemes are accessible for free but most need a subscription
TES - General resources page, TES - GCSE/IGCSE resources - TES provides a market place for teachers to sell or share resources they offer. Some free content although majority of the better stuff is paid. But a good way to buy things in small chunks, so small investments.
Teachers Pay Teachers - Similar idea to TES - mainly American but some GCSE/IGCSE and good for projects/supplements if search by topic
Twinkl - although much of the content is aimed at younger there are GCSE level materials. Might suit families who also have younger ones.
Eduquizzes - quizzes for all ages.
GCSEPod educational podcasts. Not the cheapest resource.
Brilliant - problem solving, logic, maths, science
Many distance learning providers offer short taster courses or non-exam courses that can be a good way to test if their style suits