Development Studies IGCSE is offered by CAIE. It is exam-only, available to external candidates, and members of the HE Exams group are studying for it. There is an excellent textbook for this exam. The exam is in the October/November sitting only.
Withdrawal of Cambridge IGCSE Development Studies (0453)
CAIE is withdrawing Cambridge IGCSE Development Studies (0453). Although the final date on the front cover of the syllabus is November 2022 the last examination for this syllabus will be November 2021. In line with our Code of Practice, Aim 1.10, we have provided at least 30 months' notice of the withdrawal (ending with the date of the last examination).The last examination for this subject will be November 2021 (there is no option for candidates to resit after this date). This information is for international centres.
CIE Syllabus and further information
Resources and Support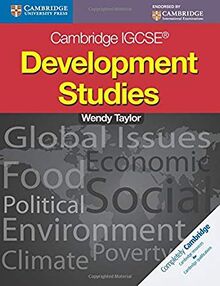 Textbook: Development Studies by Wendy Taylor
Environmental Management, Development Studies and Citizenship for Home Ed is a facebook group which has been running since 2013 and has a large number of files and resources built up.
and Development Studies / Environmental Management are Facebook groups for sharing resources.