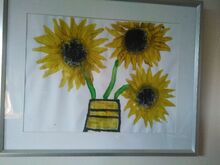 GCSE Art and Design is an umbrella term that includes a range of more specialised specifications - Fine Art, Textiles, Photography, Graphic Communication and Three Dimensional design, plus others
Art qualifications are difficult and expensive for home-educated students to access, because both GCSE and IGCSE Art and Design have practical elements. Few exam centres will take external candidates for this, but some that we know of are listed on this page. There are alternatives (read below) and most art courses at college do not require GCSE/IGCSE
If you are new to taking exams from home education, please read the Quick Start Guide first. Once you've got up to speed, please Join the HE Exams community to get support from fellow home-educators. There is a Facebook group: Home Education UK Exams & Alternatives, and an email group, the HE Exams Yahoogroup.
Why is GCSE/IGCSE Art a problem for Home Educators?
All Art GCSEs require a portfolio (60%) and an externally set task (40%) that culminates in a controlled assessment comprising 10 hours of supervised unaided work.
Eduqas GCSE Art and Design (WJEC follows same assessment pattern)
CCEA GCSE Art and Design - Northern Ireland only - slight differences to assessment but still 60% portfolio, 40% controlled assessment
CAIE IGCSE Art and Design - CAIE IGCSE Art and Design is not available to private candidates
Edexcel IGCSE Art and Design - Edexcel IGCSE Art and Design requires a portfolio (50%) and an externally set task (50%) that culminates in an assessment comprising 10 hours of supervised unaided work.
The problem with all GCSE or IGCSE option is because of the practical nature of the assessments you need to find a tutor who is attached to an exam centre. The tutors need to supervise all the practical work involved as they are going to have to sign off the work as the students own - so need to see it in progress, and eventually mark it all. It is important therefore the centre needs to have a good working relationship with the tutor and trust them. Most centres will only work with one tutor as otherwise there are additional moderation costs.
Another problem that can put off centres is that they need to store the completed work. This is even more of an issue for options such as textiles where items may be large.
Centres also need to be able to accommodate the final assessments, which requires considerable time.
All of this ends up very expensive - tuition fees for weeks and weeks of professional teaching and assessment, plus exam fees that take in the costs to the centre of the final exams and storage
Alternatives to Art GCSE/IGCSE
Arts based courses at college often do not require GCSE art and more accepting of alternatives, but it is recommended to speak to the college concerned and get feedback on their specific requirements.
Portfolio
Most colleges do not require a formal qualification in art to join a Level 3 course. Usually, they will have an interview process where the prospective student would show their portfolio and talk about it. They expect to see recent work and passion for the subject. All Level 3 art and design courses cover a variety of skills and media, other arts-based courses (eg creative media, production arts etc) are similar within their disciplines, but variety is not always expected in the applicant's portfolio. It is always worth talking to the course tutors and/or admissions staff ahead of the interview to find out their specific requirements.
Arts Award
Arts Award are popular alternatives to Art GCSEs. They are not directly equivalent to GCSEs but they are well respected qualifications that show evidence of working at GCSE/Alevel level and for Gold, carry UCAS points. They can be a useful way to help structure building a portfolio. For more on Trinity Arts Award see this page
OCAD
The Online College of Art and Design offer a distance learning option for an accredited Level 2 and 3 award in Art and Design. The Certificate is awarded by ABC Awards, and is Ofqual-accredited at Level 2. This means it is the same difficulty as a GCSE, but usually will be a different size. OCAD offer a distance learning course with no exam, so, as with the Trinity Arts Award, this could be a good way to build up your portfolio and the certificate itself may help you to be accepted onto a college arts course later. However, you cannot rely on it being accepted as a GCSE equivalent for college or sixth form entrance. Experiences with this course are mixed so it might be worth searching the Facebook group HE Exams and Alternatives for reviews. They also list a distance-learning course to prepare for IGCSE Art & Design on the website, but do not have exam centre and direct people to their Level 2 course instead.
Technology Triumphs
Technology Triumphs offer a number of NCFE Level 1 and 2 courses including Creative Craft and Textiles. Level 2 shows evidence of working at GCSE level 9-4, however you cannot rely on the courses being accepted as a GCSE equivalent for college or sixth form entrance. It is best to check with colleges about what qualifications they will accept.
Options for Sitting GCSE/IGCSE Art and Design
If you do want to do GCSE or IGCSE Art there are some options to explore.
Part-time College Placement
Some colleges accept home educated students on 14-16 placements. It can be worth enquiring whether your local colleges offer places and what courses they can cater for. It's a very mixed picture around the country.
Some colleges/schools have home ed programmes - the following have offered GCSE/IGCSE Art courses for home educators previously. 
Home Ed Partners Llangattock School, Monmouth Has facilitated GCSE Art and Design for home educated candidates. 
New College, Swindon Swindon Has a 14-16 programme that is flexible, We have no one confirmed as sitting there but if local might be worth an enquiry.
Blackheath Conservatoire, London SE3. Lists a GCSE Art Class on a Saturday. No recent users known so best to enquire as to how the assessments would be facilitated.
Exam Centres and Affiliate Tutors
A number of exam centres have links to affiliate tutors which enable them to support GCSE/IGCSE Art. It is important when signing up with a tutor/course to check that they have that link secure.
Enter CIC Durham, are starting GCSE Art in Sep 21
FareGos offers GCSE Art and Design, Fine Art through The Granary Creative Arts Centre
Tutors & Exams Offer GCSE Art and Design with The Art & Design Room, Laura Powell at a number of centres. Members have also sat GCSE Photography through Groundmark Learning and Tutor and Exams Coventry

Resources
Free online tutorials
Loads on YouTube - here are some recommendations:
Learn to Draw playlist by SchaeferArt - a very popular free tutorial channel. He has many other playlists of related tutorials.
The Virtual Instructor - free art lessons and tutorials.
Mrs Kunstler's Classes - Free complete high school artcurriculum - also offers classes etc
MOOCs - Massive Open Online Courses, on platforms such as Futurelearn, Coursera, EdX, Alison etc. Some free, structured art courses available.
Free art and design software
Blender - 3D design and animation. CGI for videos.
Gimp Image editing, more aimed at photo editing and retouching than Krita
Krita More aimed at raster image creation than Gimp.
Inkscape for Vector graphics creation.